On February 2017 I visited Sri Lanka, an island nation located in the south of India. Before going to Sri Lanka, ordinary Philippine passport holders like me need to apply for Electronic Travel Authorization (ETA). In this post, I will share the steps based on my experience and situation.
A. The Sri Lankan ETA application process.
Steps:
Go to Sri Lanka ETA System. Read the visa exemptions and choose which one is applicable to you.
Click the Apply tab and it is important to read thoroughly the Terms & Conditions before confirming the ETA application. Click the "I Agree" button and then click Apply for an Individual under Tourist ETA.
Fill all mandatory fields like applicant's information and travel information. You need to enter your intended date of arrival. You can hover your mouse to the question mark icon for a hint. It says the ETA is valid up to three months from the date of issue. Then you need to enter your contact details and answer the declaration questions. The address in Sri Lanka can be the hotel's address. The copy and paste keyboard functions are disabled in the website so you really must type in everything to the form.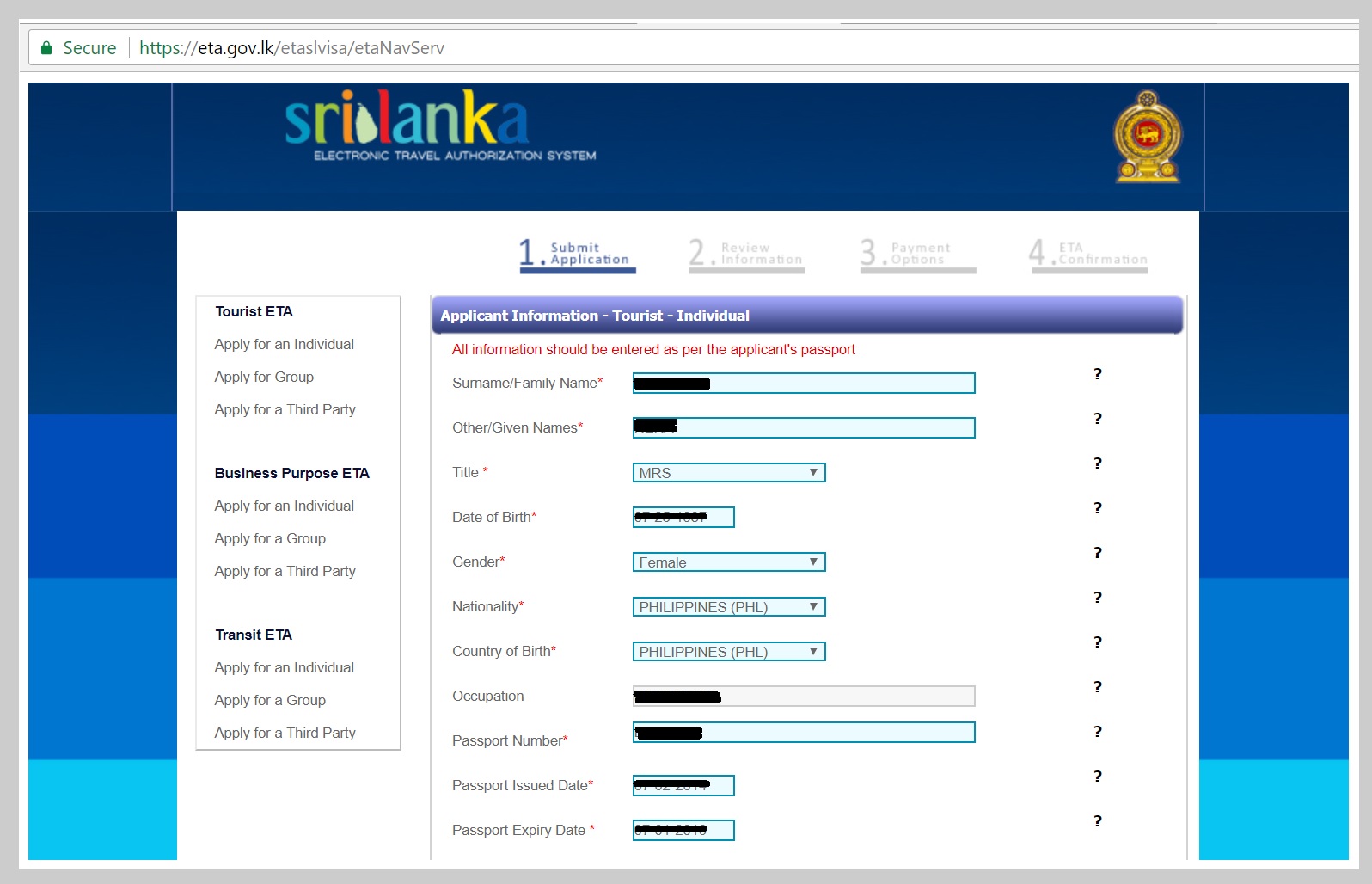 Review your application and confirm. Double-check all entries. Then the VISA Application Fee Summary will be displayed too.
Select the desired payment option to pay the $35.00 VISA Application Fee. After Paying it you will get an email (Department of Immigration & Emigration Acknowledgement of ETA application). It contains a reference number and it says you will receive a response to your application within 24 hours. Make sure you check your Inbox and Junk folder if you did not get the email immediately.
B. ETA application, Approved.
You will receive another email (Department OF Immigration & Emigration Sri Lanka. ETA Approval Notice.) It says that you must ensure that the particulars of the same travel document used for applying online visa are used for entering into Sri Lanka. In the event, if you produce a travel document other than the one used for applying for an online visa, you are compelled to pay again at the port of entry to Sri Lanka to obtain a fresh ETA.
C. Print the approved ETA.
Just print the email and carry a hard copy with you before flying to Sri Lanka.
D. The border crossing experience in Bandaranayake International Airport in Colombo, Sri Lanka
The experience was smooth. A question was not asked. The officer attached a small sticker on my passport that shows "1st visit," the allowed duration of visit, a barcode and a stamped date of arrival.