This article is about my Bukit Lawang and Lake Toba five days and four nights Itinerary. The start point and endpoint of the trip were Kuala Lumpur International Airport 2 (KLIA2) in Malaysia. Philippines Passport holders do not need a visa to enter Indonesia and are eligible to remain in Indonesia without a visa for 30 days.
Day One.
I departed KLIA2 via Air Asia flight number QZ 129 at 08:40, Malaysia time. The flight duration was more or less an hour. At 8:45, Indonesian time, I arrived at Kualanamu International Airport. Indonesia is an hour behind Malaysian time. The flight cost me RM 52.55 (Malaysia Ringgit) or roughly $13 based on today's rate.
The immigration officer asked me if it was my first time in Indonesia and if I was alone. He also asked where I'd go.
On the arrival area, the driver waited for me with a signboard with my name written on it. I have ordered the service from my accommodation Wisma Leuser Sibayak due to a limited time in Bukit Lawang. The private transportation cost IDR 600,000.00 ($43). At 10:13 we started our roughly 122 kilometres land journey to Wisma Leuser Sibayak. The road to Bukit Lawang was not always smooth. Sometimes it was a dusty and rough road. The driver was experienced and good at his job. After 4 hours and 20 minutes, we arrived in Bukit Lawang.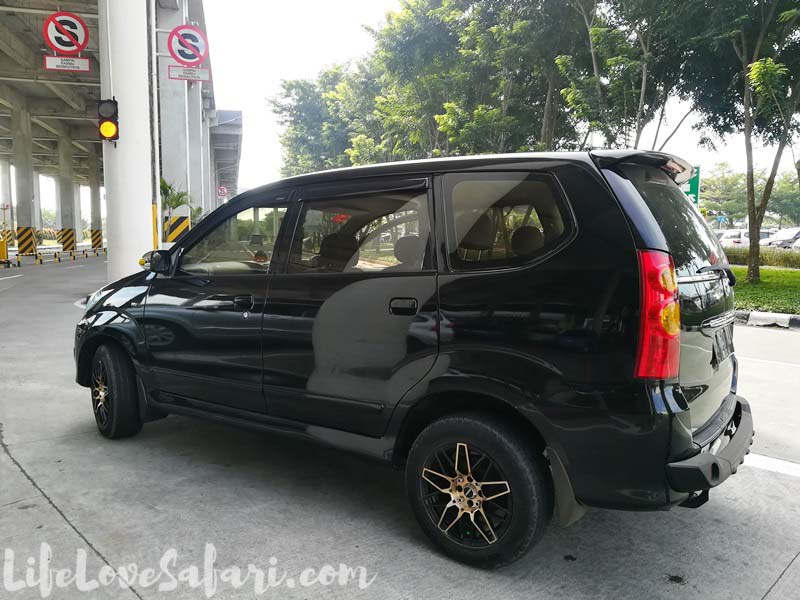 I have met the son of the operator of Wisma Leuser Sibayak, one of the decent accommodations in the village. He was also my guide in the three hours Orangutan jungle trekking. After paying him 45 Euros ($52) for the Orangutan jungle trekking and tubing and IDR 350,000 ($25) for the accommodation, he gave me time to chill and have lunch.
After lunch, we immediately started the three hours Orangutan jungle trekking and tubing. A lady from Germany joined the activities. At exactly 18:00, we completed the activities. After this, I had dinner and retired to my bed.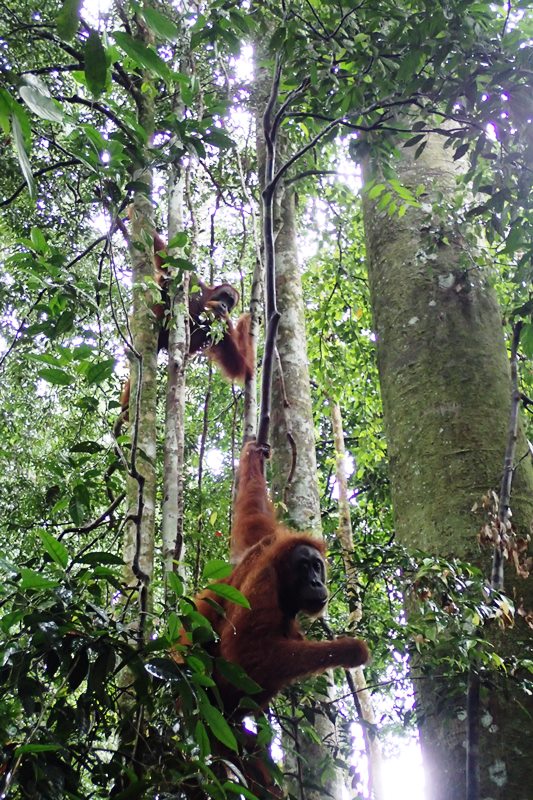 Read the full report:
Day Two.
I woke up and had breakfast. At 9:33, we started our whole day trip to Lake Toba via Medan. The shared transportation arranged by Wisma Leuser Sibayak cost me IDR 230,000 ($16.50) including a ferry ticket from Parapat ferry station to my hotel dock in Tuk Tuk, Samosir Island in Lake Toba. I shared the car with 3 locals, one guy from Germany and a young couple from France. I strongly advise you to take motion sickness tablets if it is necessary for you.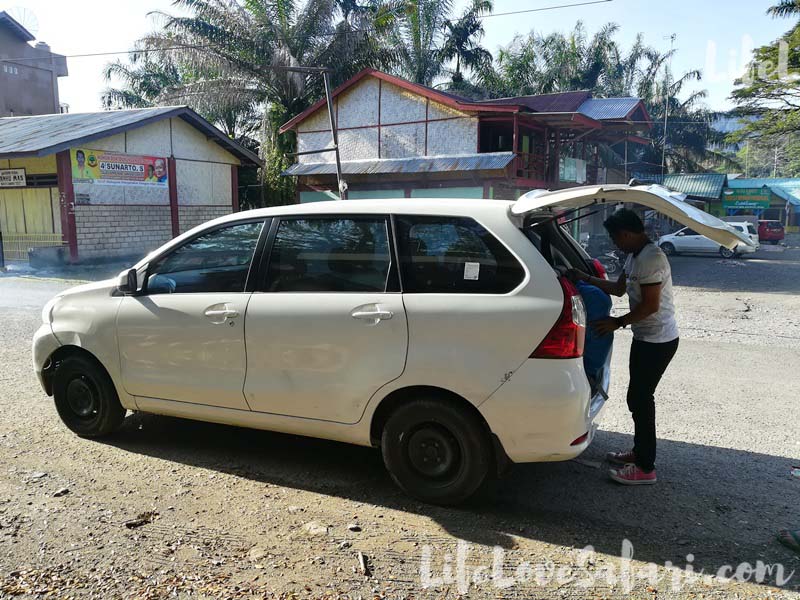 When we reached Medan, we dropped the 3 locals and bid goodbye. At 14:05 we reached the Cindelaras restaurant where we had lunch somewhere in Jl. Jamin Ginting, Batu Layang. After lunch, we continued our journey to Parapat. We drove through Alloyna Country Cottage in Berastagi, and a middle-aged couple from Holland joined our journey. I had to move to the back of the front seat because I was smaller and so that everybody would be comfortable in the car.
At 17:33 we finally reached the Jl. Simarjarunjung for the viewpoint and toilet needs. The view of Lake Toba was stunning. The driver gave us enough time for a coffee break too. It started raining so we continued our journey to Parapat. At 19:00, just when we were nearing Parapat, a landslide happened probably an hour earlier. We had to detour and use a different road. The driver called it a special road. It was already sunset and driver did not already care for the humps and potholes. There was part of the journey where we drove downhill. It was a dark, muddy and slippery road. It was scary and I just prayed in my mind while I saw the truck with cows going uphill being pushed by a dozen men. Then we reached the main road to Parapat.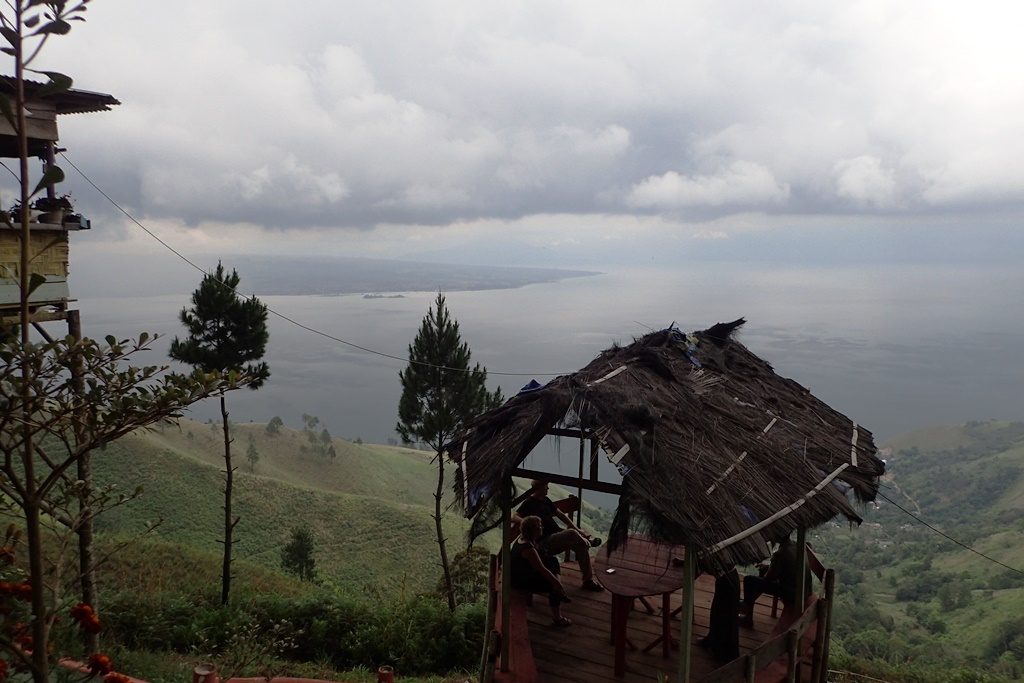 At exactly 20:07 we arrived at the Tigaraja ferry station. Our driver bought our ferry tickets. Other travellers were already there waiting for us to complete the required number of passengers. After thirty minutes, all the other passengers and I registered our name, nationality, and the name of our hotel in Samosir Island and then we boarded the ferry boat. After thirty minutes, the boat started docking one hotel at a time. By 21:39, the boat finally docked at my hotel called Zoe's Paradise. It was raining very hard, and the staff brought umbrellas. Then I checked in and had a decent dinner. It was smart of me to order the dinner while I was in the boat. After dinner, I spoke with the staff in the reception and decided to order a private Samosir Island tour. It cost IDR 1,250,000.00 ($89) for 2 pax, but since I was alone, I paid the price. At 23:40, I finally retired to my bed and slept.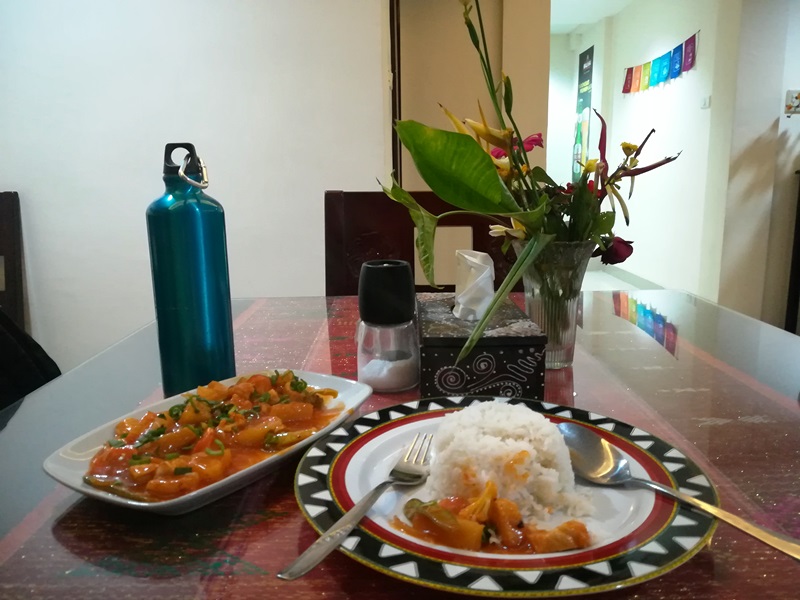 Day Three.
I woke up at 6:30 to a very beautiful view on the paradise island of Samosir. I used my binoculars to look closely at the birds and the beautiful waterfalls on the island. Then at 7:00, I decided to have breakfast and prepare for the tour. The agreement was to start the tour at 8:30 but finally, we started it at 9:30. The Samosir Island tour took 8 hours and 30 minutes to complete. No-fuss and easy tour.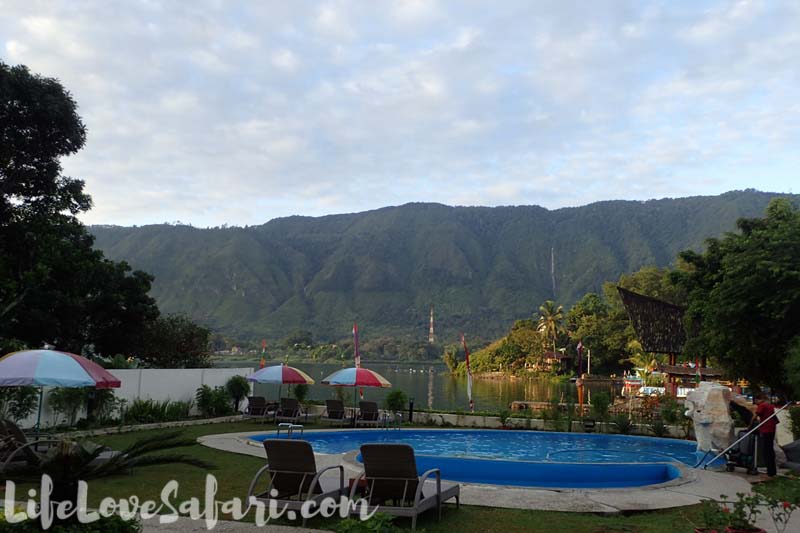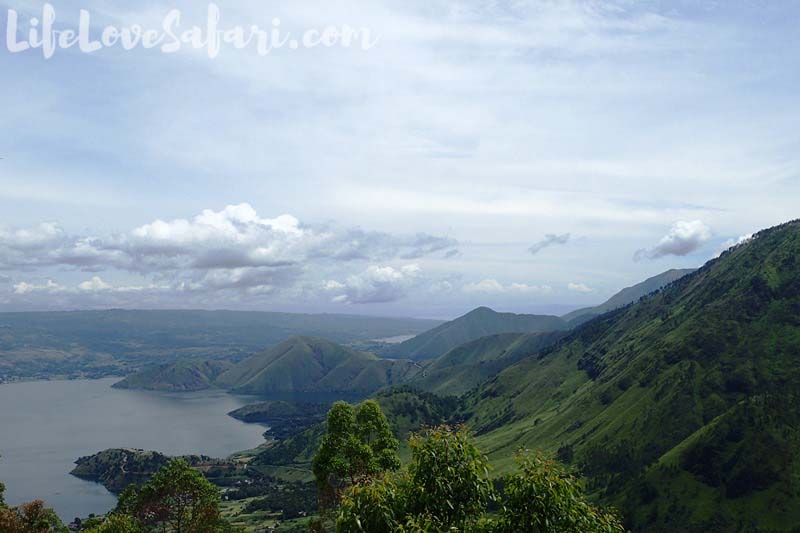 At 18:00 I swam in the lake but it was windy and cold. I did not linger much in the lake and decided to swim in the pool too. After an hour, I decided to enjoy the view in my room and had dinner there and at 23:00 I slept.
Day Four.
I woke up late and enjoyed my breakfast at 8:00. After that, I just relaxed in my room and enjoyed the nature. At noon I checked out and waited for the ferry boat that would take me back to the mainland, in Parapat. While waiting for the boat, I spoke to one of the staff. He was very interested, and we had a casual conversation. To them, it was surprising to have Filipino guests on the island. They mistook me as a Malaysian citizen because I spoke basic Malay.
At 12:50 I was already in the boat and for the last time, I enjoyed the scenery of Samosir Island and Lake Toba. After 30 minutes, the boat docked at Tigaraja ferry station. I decided to buy some cookies before taking any transportation. After that, I decided to ride Angkot (a small converted minivan) to the main Bus Station called Sosor Saba Parapat. There was no bus so the Angkot driver told me to wait for another van on the main road. In the waiting shed, another guy who spoke English confirmed that a van to Balige would pass by the shed. I was lucky to have visited the toilet before the journey to Balige.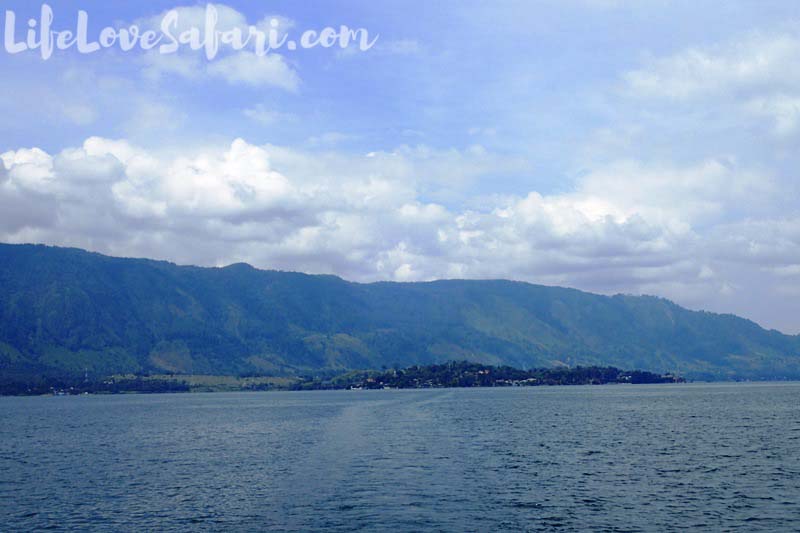 Then, the minivan to Balige arrived at 14:00. I hoped in, and we droved off. It was not very comfortable as the minivan chairs needed serious repairs and the music was loud enough to cause a headache. If you do not like a hasty driver, and smoking co-passengers, I recommend you arrange different transportation to Balige. It was a winding road to Balige, and I recommend taking motion sickness tablet if you need it. The 60 kilometres distance was covered in one hour and 30 minutes. At 15:30 the driver dropped me at Mutiara Balige hotel where I had lunch and tea break.
At 16:14, I went to the Batak Museum TB Silalahi Center and spent one hour and 30 minutes to inspect it. I could have spent more time there, but I was hesitant to meet the sunset on the road. At 17:30, I hailed the minivan and continued my journey to Silangit. In the van, my co-passengers were locals who were also going home to Tarutung with goods like chicken and vegetables purchased probably from Balige. The road to Silangit was also scenic. A lot of rice fields prettier than the fields I saw in Bali. If only I could stop and snap a photo. As usual, the Angkot or minivan driver like most drivers in Nothern Sumatra was very hasty. In less than 20 minutes, I arrived in Noah Hotel Silangit.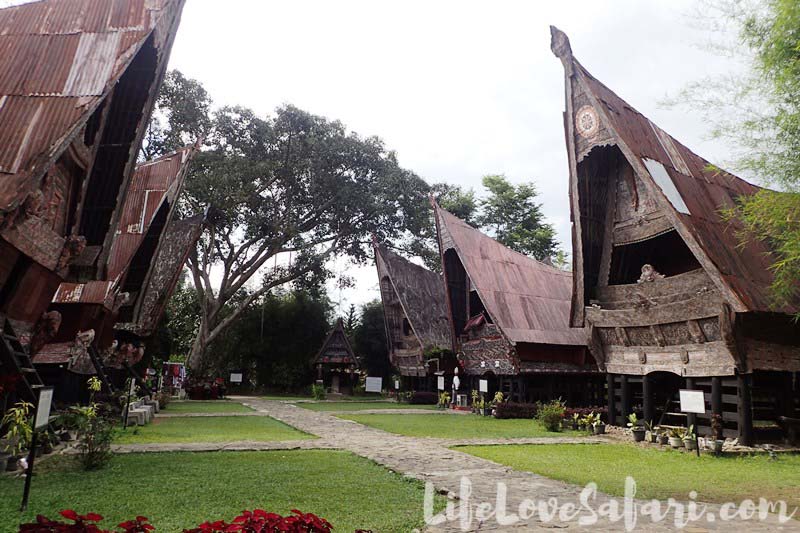 In Noah Hotel, I checked in smoothly and arranged for transportation to Silangit International Airport the next day. Then I had my dinner in their decent and clean restaurant, and I also bought more Sumatran souvenirs like Lintong Coffee. I was not sure if it was really an organic Coffee Luwak. You know those coffee beans collected from civet cats' poop. After some time I enjoyed the sunset in the hotel's garden. At around 23:30, the temperature dropped to 20 degrees Celsius, and I decided to sleep.
Day Five.
At 9:00, I woke up and had breakfast. I was surprised to see good cars coming in, and more hotel guests joined in the restaurant. Breakfast was okay. At 10:12 I was already in the International departure at Silangit International Airport. The airport was small, and right after bag screening, you will see two high desks of the immigration. In the waiting area, I was surprised to see the middle-aged couple from Holland! I just greeted them a good day and proceeded to my space in the departure area. At 11:25 I departed Silangit and arrived in KLIA2, Malaysia at 13:45 via Air Asia flight number AK 412. Would you believe that this flight segment cost $9 only? Believe it!